Pressurised steam cleaning services
The latest tool in our armoury is an advanced pressurised steam cleaning system that effectively removes paint, oil, grease and dirt, using less water and creating less mess. Using a variable yet precise combination of pressure and temperature, the DOFF system uses steam to leave the underlying substrate undamaged.
Good communication, combined with reliable staff and efficient steam cleaning systems, all add up to a steam cleaning service that offers unbeatable service and value.
Gently removes a range of substances
Quick and efficient
No chemicals
Perfect for busy environments
Highly recommended by architects
We're part of the Federation of Window Cleaners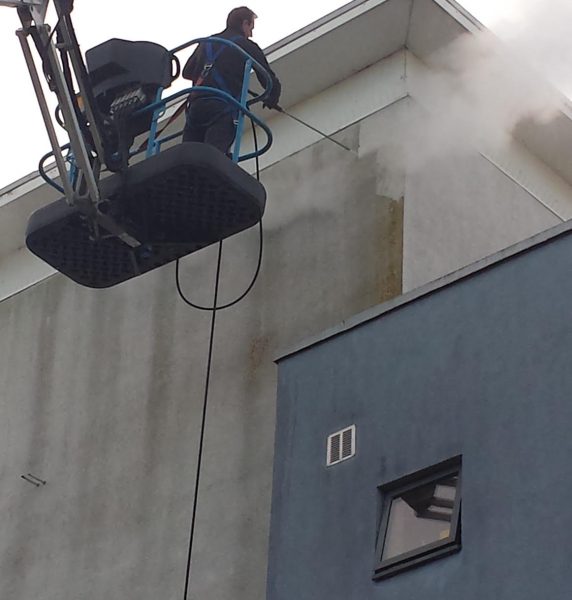 Block Paving & Pavement Cleaning
When block paving becomes infested with unwanted weeds and other substances, it can start to look a bit of an eyesore. What's more, if left unattended, these growths can damage your pavement over time.
We offer professional, affordable pavement cleaning services to customers who want to maintain their investment and keep their surface in great condition for years to come.
Removes weeds, grass, algae, lichen, moss and more
Fast, efficient cleaning solutions for any pavement
Professional cleaning methods
High powered machinery for fast maintenance
Tailored cleaning quotes to suit your budget
Graffiti Removal
Graffiti is a constant problem that can leave buildings and surrounding areas looking unsightly and uncared for. ProActive Support Services uses a high-powered jet wash system to remove the graffiti quickly and effectively.
Fast response service
Leaves no traces or marks
Minimum disruption to your environment
Great results without damaging your property
System also removes chewing gum
Cladding and Façade Cleaning
ProActive Support Services can efficiently remove all dirt and staining from building facades, utilising jet washers and the DOFF steam cleaning system we can operate from street level or use our high-level cleaning equipment and access levels.
Removes dirt and stains
Works on stone, brick, glass and metal
Available for street level or high-level façades
Highly trained staff for extra peace of mind
Tailored quotes for every project
Brick & Stone Cleaning
Using the latest cleaning systems and techniques, ProActive can cost-effectively revitalise and enhance your building to help restore it to its original state.
Removes stains and all signs of moss and algae
Environmentally friendly techniques
Helps to retain the architecture's original appearance
Reduces the risk of atmospheric/structural damage
Regular cleans available
Stone Restoration
ProActive uses high-tech machinery, experience, hard work and skill to give your surface a new lease of life, whether it is damaged, stained or just needs revitalising.
Our cleaning and restoration techniques transform floors, building claddings, table tops and work surfaces, fireplaces, staircases and more.
Can treat all types of natural stone
Expert cleaning of marble, terrazzo, granite and limestone surfaces
Removes dirt, stains and bird fouling
Skilled machine operatives
Minimal disruption to your environment