High level access cleaning solutions for commercial buildings
We clean the surfaces that other companies can't reach!
Using an innovative, water-fed Reach and Wash system, our experienced team of high-level access cleaners can quickly and effectively clean away dirt, grime and staining from any high-level area.
Ideal for windows, panelling, cladding, fascias and roofs
High quality finish guaranteed
Filtered water for immaculate, smear-free glass
Environmentally friendly cleaning system
Up to 50ft reach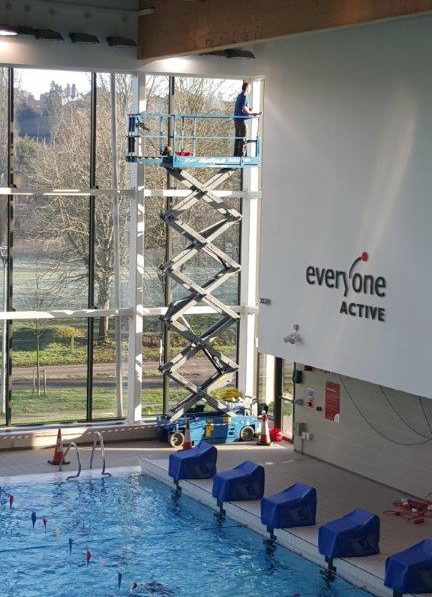 Commercial Window Cleaning
Your high-level windows may be out of sight – but that doesn't mean they should be out of mind. ProActive Support Services specialises in cleaning high rise, out-of-reach windows on commercial buildings.
Traditional and contemporary cleaning methods used
Wide range of machinery available
Experienced, fully trained staff
Bespoke quotes on request
Up to 68m reach
Brick & Stone Cleaning
We can offer fast, efficient cleaning solutions to tackle all types of stains. Our equipment is designed to remove all signs of moss and algae from the surface to provide you with first class results.
Gentle yet powerful cleaning techniques
Environmentally friendly solutions
Enhances the appearance of your building
Helps retain original features
Reduces the risk of structural or architectural damage
Gutter Cleaning
For many property owners, their gutter system is a secondary concern and is often neglected. It is important that you maintain a free-flowing gutter system by cleaning this out annually to prevent any unwanted blockages.
Safe, efficient commercial gutter cleaning solutions
Helps to prevent damage to walls and furnishings
Top machinery manned by fully trained operatives
Emergency response service available
Gutter maintenance quotes available
A blocked gutter can cause many problems as it means that rain will fall too close to your property and can cause subsequent expensive damage to walls, decorations, soft furnishings and carpets.
ProActive offer a professional trustworthy service to ensure that your gutter is clean and flowing water is kept away from your house properly.  This will help to protect your foundation and keep stains and damp from developing on your building.
Cladding and Façade Cleaning
In today's competitive business environment, presentation is a key marketing tool for every industry and visitors have learned to expect a high standard of cleaning. A poorly maintained façade is not going to leave a positive impression.
Drawing upon state-of-the-art jet washers and DOFF steam cleaning systems, we have the tools, the techniques and the expertise to remove all dirt and staining from building façades.
Range of market-leading equipment available
Effectively cleans hard-to-reach surfaces
Works on stone, brick, glass and metal façades
Operates from street level or high-level areas
High standards of cleaning, every time
Whatever your specialist high-level cleaning requirements, we will almost certainly have a cost-effective solution to meet your needs. Contact ProActive Support Services today to discuss your high-level cleaning project in more detail.